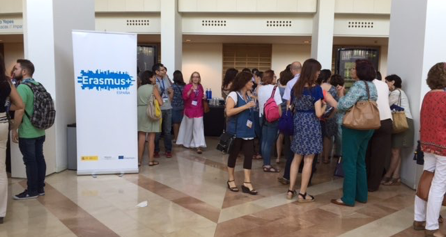 Nuestro instituto  presentó en la convocatoria 2015 y dentro de la acción KA-101 de educación escolar, un proyecto orientado a la formación en el extranjero del profesorado a partir de la cual crear una base para el inicio de un programa plurilingüe en el centro. 
Este proyecto titulado "Plurilingüismo Para la  Igualdad de Oportunidades" ha resultado finalmente seleccionado entre aquellos que recibirán subvención europea para su puesta en marcha y, con toda la ilusión, hemos empezado a trabajar asistiendo en Murcia a unas jornadas formativas organizadas por el SEPIE (Servicio Español Para la Internacionalización de la Educación) .
---
Erasmus+ project starts
Our proposed Erasmus + project for the 2015 call has been selected. This means that the school is going to receive a European Union grant to support teachers' lifelong learning training courses around Europe.
Currently, we have already begun working by attending two training days that SEPIE (Spanish Service for the Internationalisation of Education) has organized in Murcia.